Transportation Secretary Pete Buttigieg shifted part of the blame for the recent derailment of a train carrying toxic chemicals in Ohio on the Trump administration reversing a little-known safety rule.
Buttigieg noted Tuesday evening that his agency had taken a series of steps to improve rail safety through "historic investments," but said it was constrained by the Trump administration action. In 2018, the Department of Transportation (DOT) withdrew a rule proposed three years earlier requiring trains carrying certain dangerous chemicals to utilize electronically controlled pneumatic (ECP) brakes, saying the technology's benefits were inconclusive.
"In the wake of the East Palestine derailment and its impact on hundreds of residents, we're seeing lots of newfound or renewed (and welcome) interest in our work on rail safety, so I wanted to share more about what we've been doing in this area," Buttigieg tweeted.
"We're constrained by law on some areas of rail regulation (like the braking rule withdrawn by the Trump administration in 2018 because of a law passed by Congress in 2015), but we are using the powers we do have to keep people safe," the transportation secretary added. "And of course, I'm always ready to work with Congress on furthering (or in some cases, restoring) our capacity to address rail safety issues."
OHIO TRAIN DERAILMENT ADDS TO BUTTIGIEG'S GROWING LIST OF SLOW RESPONSES, AFTER HE WAITED 10 DAYS TO ADDRESS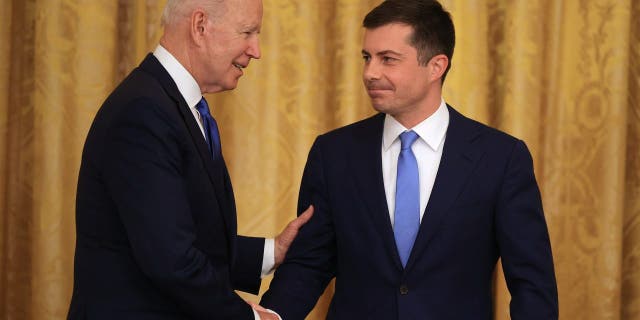 The DOT didn't respond to a request for comment Wednesday asking why Buttigieg hasn't moved to reinstate the rule.
On Feb. 3, a train carrying vinyl chloride, a dangerous colorless gas, and operated by the transportation company Norfolk Southern Railroad derailed in Columbiana County, Ohio, which is located along the Ohio-Pennsylvania border. 
PETE BUTTIGIEG OFTEN FLIES ON TAXPAYER-FUNDED PRIVATE JETS, FLIGHT DATA SHOW
Shortly after the derailment, Norfolk Southern opted to release the gas from the derailed cars, potentially releasing deadly fumes into the air, to prevent a potentially disastrous explosion. Local residents were told to evacuate the area, but assured it was safe to return on Feb. 9.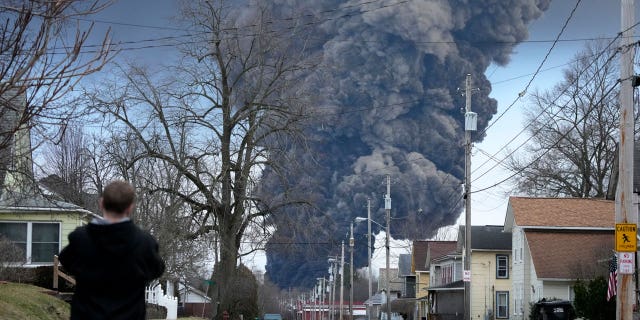 The Environmental Protection Agency, Norfolk Southern and Ohio officials have conducted air monitoring in the eastern Ohio region and said the tests have shown the air is safe to breathe. However, locals and experts have expressed concern that it is dangerous to return to the area. 
"The railroad company is responsible for this and for these people who went back to their homes," Sil Caggiano, a local hazardous materials specialist, told Fox News on Tuesday. "Their homes should have been tested. Their homes should have been cleaned. From the onset, these people were being marginalized in an effort to mitigate this."
"This really looks like a nuclear winter," he added. "Pretty much, yeah, we nuked this town with chemicals."
BUTTIGIEG BATTERED BY CRISES IN FIRST TWO YEARS AS TRANSPORTATION SECRETARY: 'PRIME EXAMPLE OF FAILING UP'
Buttigieg, meanwhile, has been blasted for his slow response to the derailment. He waited 10 days to address the situation, promising to "use all relevant authorities to ensure accountability and continue to support safety."
CLICK HERE TO GET THE FOX NEWS APP
The Trump administration rule change Buttigieg partially blamed came after Congress passed and former President Barack Obama signed the Fixing America's Surface Transportation Act in December 2015. 
The legislation established a new process, including independent study and testing, for the DOT to use in developing an updated regulatory impact analysis (RIA) related to the ECP brake provision, according to the Government Publishing Office.
"The final updated RIA shows that the ECP brake requirements are not expected to be cost beneficial under any scenario assessed," the DOT stated in 2018.
facebook testing ai model to curb conflict in groups artictle
facebook testing ai model to curb conflict in groups artictle
bingo blitz free credits generator hack 2023 photography pexels
bingo blitz free credits generator hack 2023 photography pexels
générateur brawl stars argent et gemmes libre gamertricks com
générateur brawl stars argent et gemmes libre gamertricks com
clash of clans free gems and gold generator md
clash of clans free gems and gold generator md
coin master spins generator 2023 63fan
coin master spins generator 2023 63fan
dice dreams free rolls today dice dreams rewards january
dice dreams free rolls today dice dreams rewards january
generator gold and gems free for dragon city soultricks
generator gold and gems free for dragon city soultricks
tiktok coins hack tiktok coins generator get
tiktok coins hack tiktok coins generator get
free amazon com 50 gift card rewards store swagbucks
free amazon com 50 gift card rewards store swagbucks
stumble guys apk mod v0 44 3 unlocked skins thinkkers
stumble guys apk mod v0 44 3 unlocked skins thinkkers